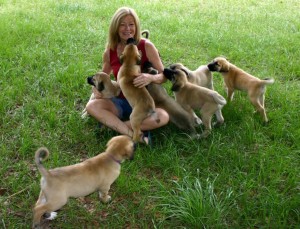 Paws to Hooves Pet Care was established in November of 2013 and is the result of my lifelong passion of caring for animals, which includes working as a certified veterinary technician with both small and large animals, caring for a variety of pets and livestock all my life, and pet sitting for friends and family over the years. All of this has led me to my new full time business of professional pet sitting.
I know how stressful it can be to leave your pets and animals when you need to be away from them. Confidence in your pet's care is of utmost importance, and my goal as a pet sitter is to establish that confidence with all my clients that your pets will be well taken care of and eliminate the worries of being away. Reliability, attention to detail, and of course lots of love and affection towards your pets can be counted on when you call Paws To Hooves Pet Care. Unlike some of the larger companies that employ numerous pet sitters, with Paws To Hooves Pet Care you can count on getting the same consistent and personalized service each time you call.
I have experience and enjoy working with all types of animals, from dogs and cats and other domestic pets, to farm animals such as horses, cattle, goats, sheep and poultry. Services include pet sitting in your home, dog walking, puppy care, cat care and farm care of horses & other livestock.